We have the pleasure of once again being a stop on Jamie Magee's Blog Tour. This time she is touring to promote Witness - - this is Book 2 in the series, quickly following on the heels of SEE. You will find the summary of both books below and our review for SEE can be read here
Look today here on the blog, for our review of Witness as we also had the pleasure of reading it ahead of time and you can too!!!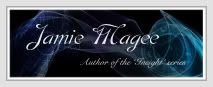 Jamie is giving away 1 ebook each of SEE and Witness to one lucky commenter. Did you hear that? BOTH BOOKS!!! Witness is not released until the 19thof this month so you will also get to read it early! Of course, Jamie never stops just there, she also has some awesome swag, bookmarks and guitar picks to giveaway along with the ebooks. Wonder the significance of guitar picks??? WELL READ THE BOOKS :) you'll be hooked.
To win for the giveaway here on our blog, leave a comment below, tell us if you've read on of Jamie Magee's books in either series, ask a question, or just let us know you say hi. Make sure you are a follower over to the right  leave your email address and we will be choosing a winner on July 8th. (international too :) )
THAT STILL ISN'T ALL!! Jamie brings us awesome books and packs in the giveaways. She will be choosing a winner from all the commenters on the entire tour to win printed copies of both SEE and Witness, along with a $25 gift card to Amazon (swag bookmarks and picks too) and this is also international. So you can see the list of participants below and make sure to visit and comment on their blogs for more chance to win.
THAT'S 2 GIVEAWAYS in 1 POST !
Thanks Jamie – as always it's a pleasure to have you come by, love your books and helping promote you any time. Next time maybe you can bring Draven by or Drake  you know they hold a special piece of my heart.
Visit Jamie at one of these links – she's lots of fun, and I still wonder how she pumps out these works and has time to do anything else. AMAZING!
Face Book http://www.facebook.com/Insight.Jamie.Magee
Twitter http://www.facebook.com/Insight.Jamie.Magee
Blog http://authorjamiemagee.blogspot.com/
Amazon http://www.amazon.com/Jamie-Magee/e/B004DAU5JY
Summary of SEE
Forgetting who you are, your ambitions, your passions is crippling….but remembering – embracing your purpose with a new sense of determination is more than empowering….it's life altering. Charlie Myers is on a life altering path that will cause the dammed to humble in silence.
One night…just a few friends, how could it go so wrong? That was the question seventeen year old Charlie Myers was asking when she found herself in the ER. Outwardly nothing was wrong with Charlie, she was a vision of perfect heath, internally she was battling a raging headache…one the doctor told her she would overcome shortly, but Charlie knew something else was wrong …very wrong.
Part of her had been stolen…she was missing memories. Those memories were sacred. They held the key to her sanity. They told her that the sinister whispers, the shadows that came to life before her were not as ominous as she felt they were. They held the bond with her late father, a famed musician. They caused her to forget the one talent that allowed her to face the darkness that haunted her every waking hour. They also masked a much deeper bond, the face of the one that had stolen her heart, long before the age of seventeen.
Sitting in the ER with her angry mother she couldn't figure out what she was missing, or even how. Her thoughts told her that she needed to protect Britain, a friend of hers, but that didn't make any sense – Britain didn't need to be protected from anyone, he was strong, young, and absurdly wealthy. Charlie also knew that even though her friend Bianca called Charlie her best friend, she didn't trust her …she was almost sure she despised her, but she couldn't figure out why, or understand how random thoughts were telling her that she adored both Britain and Bianca – that they were her saviors – that they brought silence to the unstoppable whispers, but the silence scared Charlie. In her mind anyone or anything that could bring silence to something that dark could not be good.
Charlie wanted to stay in NY, figure out what she was missing, why, and who was behind it all, but her mother had other plans. Against her will, Charlie was sent to Salem to live with her sister, within that small town Charlie found her memories and so much more.
Her story begins now.
Summary Of WITNESS
Forgetting who you are is hard, but not as hard as remembering. Remembering that you have no idea how to face your demons, how to save the lost.
Charlie is at a sacred threshold.The 'glass box', as she calls it, is slowly falling. Her childhood has ended. The moment she has yearned for, the moment where she can go and do anything, anything at all without seeking permission is now. She'd dreamed of this time, all of her friends had, but now that it's here, she doesn't know which way to run, or if she should even run at all.
Charlie knew that running would be a goodbye forever, and she didn't want that, she wanted to freeze the time she was in, to stay in the calm before the storm, the illusion that she could out wit the ones who seek her, hold the one she loves, and play the music that gives her passion. She'll soon discover no one can hide from their fate, that time does not stop in place, and that whether she chooses to perceive it or not, the darkness has come.
What Charlie feared most, losing him, is a threat now more than ever. A realm, a dark and twisted dream world has called him, and now she must fight to save him, and others like him. Standing in her way is a soul from another life, a boy that promises that he will destroy her world, to save her life. With this threat in hand, with the dark path that her friends are on, Charlie must fight to find a way to leave, to trust that beyond her dimension there are souls that can help her, help all of them. The only question is, will she find them before it's to late, and if she can't, how is she going to use her gift, the gifts they all share to save them.
BLOG TOUR MEMBERS -
July 6th Seduced By Books - http://seducedbybooks.blogspot.com/
July 7th The Shadowed Realm -
http://xtheshadowrealmx.blogspot.com/
July 8th The Cozy Reader - http://thecozyreader.com/
July 11th MoonStars Fantasy World - http://moonstarsfantasyworld.blogspot.com/
July 12th The Reading Geek - http://thereadinggeek.blogspot.com/
July 13th Lovey Dovey Books - http://www.loveydoveybooks.blogspot.com/
July 14th The Lovely Books - http://jessicaslovelybooks.blogspot.com/
July 15th Sassy Book Lovers - http://sassybooklovers.blogspot.com/
July 15th Delphina Reads Too Much - http://www.delphinareadstoomuch.com/
July 16th Page Flipperz - http://pageflipperz.blogspot.com/?zx=6ba9dca96e7fe7b5
July 16th Between the Lines - http://www.betweenthelinesbookblog.com/
July 18th Paranormal Reads - http://paranormalreadsreviews.blogspot.com/
July 19th WITNESS RELEASE DATE
July 19th Better Read Than Dead - http://www.angelsdemonsandvampires.com/
July 20th Book Reader Addicts - http://bookreaderaddictsgiveaways.blogspot.com/
July 20th Parnormal Books Fan http://paranormalbookfan.blogspot.com/
July 21 Taking it One Book at a Time - http://takingitonebookatatime.blogspot.com/
July 23rd Insane About Books - http://insaneaboutbooks.blogspot.com/
July 24th Lovey Dovey Books - http://www.loveydoveybooks.blogspot.com/
July 25th D's Bookworld - http://ds-bookworld.blogspot.de